What is the mantra for success of your business? Introducing new products? Big ad campaigns? Networking? No. It's relationships!
Networking sounds like wiring. And many people network like wiring – they make it messy
and they want to extract something out of it.
Networking is not exchanging business cards! It's about connecting with people. That is how you can help them. Darcy Rezac (in the book "The frog and the prince") defines it as "discovering what you can do for someone else." (Source: Guy Kawasaki's The Art of Schmoozing)
Relationships are about Caring for Others
Just today, I heard this podcast (Jackie Speier, Former State Senator and Deborah Stephens, Center for Innovative Leadership at Stanford) where Deborah talked about relationships and she said, "I don't think we have to network. We have to build Relationships. Relationships are about caring about someone." And caring is reflected in how we listen to people, and how much we help others, how much you want to meet people, and how much time can you spare for others just to help. And you have a ton of such opportunities in business.
Wonders Relationships Do to Small Businesses
I cannot think of p2w2 without relationships. Every step we have taken until now was made possible because we had someone who helped us along the way.
Relationships are so important – they help you reach a higher orbit. You get new opportunities because someone knows you. They help you keep your business in a tough economy. They help you in hiring, financing your company (friends and family are the biggest and the first source of financing small businesses), in purchasing (you know deals before others!), and of course in selling (referrals). Relationships could be the essence of building a business.
If you have great relationships, you can survive the biggest challenges in the market, competition or otherwise.
So how would you network? err.. build relationships?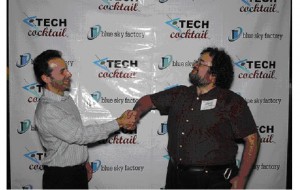 About the author: Chaitanya Sagar is the Co-Founder and CEO of p2w2, an online marketplace for services like writing, software, graphic design, virtual assistance, business consulting and research. He is fascinated by entrepreneurship and the difference technology can make in people's lives. Chaitanya blogs at p2w2 blog (RSS) and tweets at www.twitter.com/Chaitanya.