Handling your projects just got a whole lot easier! The file management feature on p2w2 lets you save your work files for a project at one secure location so you and your client always have access to them. This makes working through P2W2 much more efficient and faster.
These files are visible only to parties involved in the project, the client and the professional. Confidentiality is assured!
Each project has a dedicated file space set aside for it, so all the files for a project are in one location without cluttering your private workspace.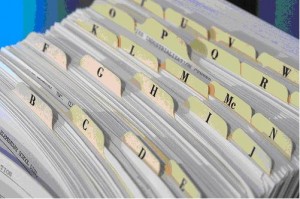 Here's why we think using the file section is a great idea:
For starters, all the relevant documents you need for your p2w2 project are placed in one secure location. They will be shared only between the professional and the client, so confidentiality is maintained. You can revise your documents too and store the different versions in this file section. If you think that you might forget which files contain what, we've also provided you with the means to append small descriptions and notes alongside each file so that it is convenient for reference.
Maintaining a log of all such activity and revisions makes the work more accountable and efficient. You can compare different versions of a file. You no longer need to hunt through your system for the files and in the event of a system crash; you can still find all documents stored online. This makes you a more reliable person to work with since you can work from almost anywhere while still maintaining your travel schedule.
Only your latest version for any file is visible, thus keeping your workspace clutter-free. Also, for security and privacy reasons, if you delete a file, all versions of the file are deleted. So, in case you want to revert to an older version and discard the rest of the versions, save it under a different file name first.
So many files, so little worries:
You can manage large projects easily since different file formats can be uploaded. For example, if you are designing a web-page, then you can upload images, media, content files and HTML/CSS or other related files with descriptions of
each to guide the project development.
You can mark a file as a 'deliverable', i.e. one which can be used for the project. Once all the revisions are made for a file, you can indicate that it's a deliverable by choosing the option while uploading it.
Finally, getting to do it yourself:
Lets start with getting familiarized with the files section in your projects:
1. Start by first logging into P2W2.
2. Open your projects page and click on the name of any one of your projects.
3. You will see a small menu with items like, 'Project Home page', 'Files', 'To-Do,' etc. present. Click on 'Files'.
4. You will see an 'Upload' button, and two sections titled: 'Deliverables' and 'Other Files'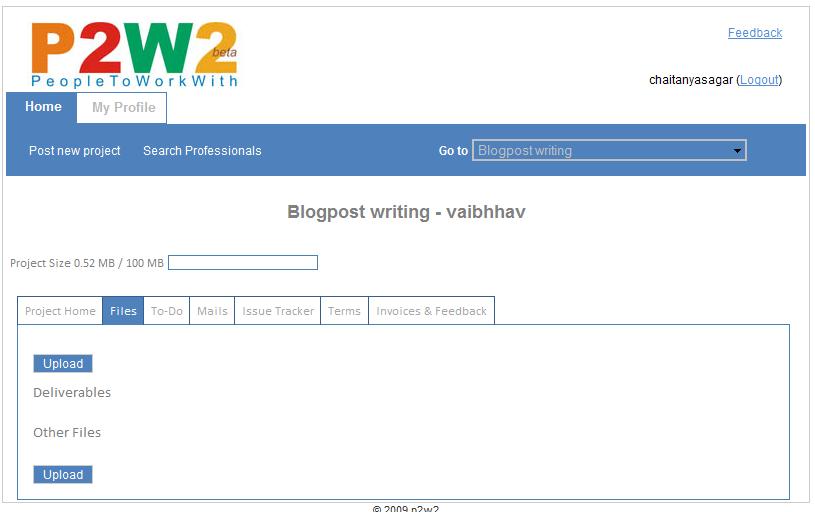 5. Click on the 'Upload' button.
6. A small window has opened on the page, asking you to browse for the file on your system with a few other fields namely: 'description' (for adding small notes about a file), 'milestone'(in case you want to link files to a milestone date) and a checkbox which lets you upload the file as a deliverable one as required.
7. After you select the file, add a short description of your choice so that you know what the file contains. Select a milestone as per a decided date if applicable
8. This is what you should see before uploading.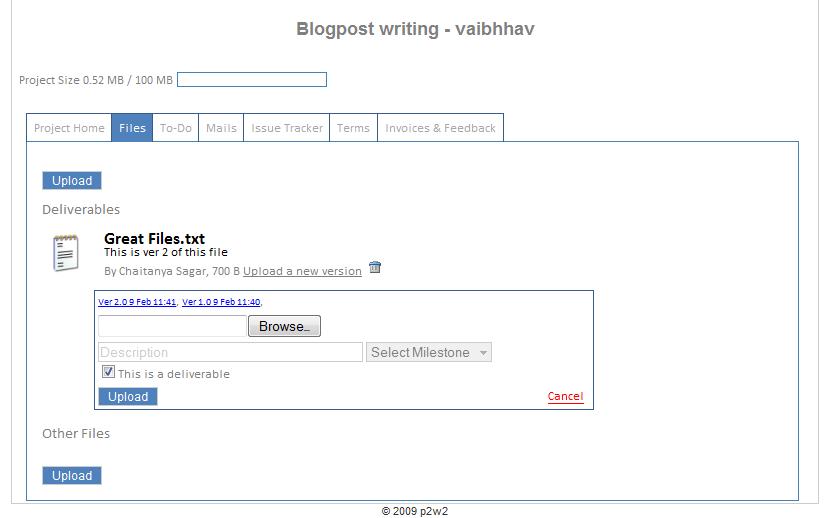 9. Now, after you click on the upload button, your file will be visible under the 'Other Files' Section or the 'Deliverables' Section depending on your selection.
Click on the link next to your file name which says 'upload a new version' and a small window will open again like before. This time you can see the current version of the file displayed. Clicking on the files will let you view them in the browser.
Uploading a new version of the file.
p2w2 lets you store up to 5 versions for a file on our servers.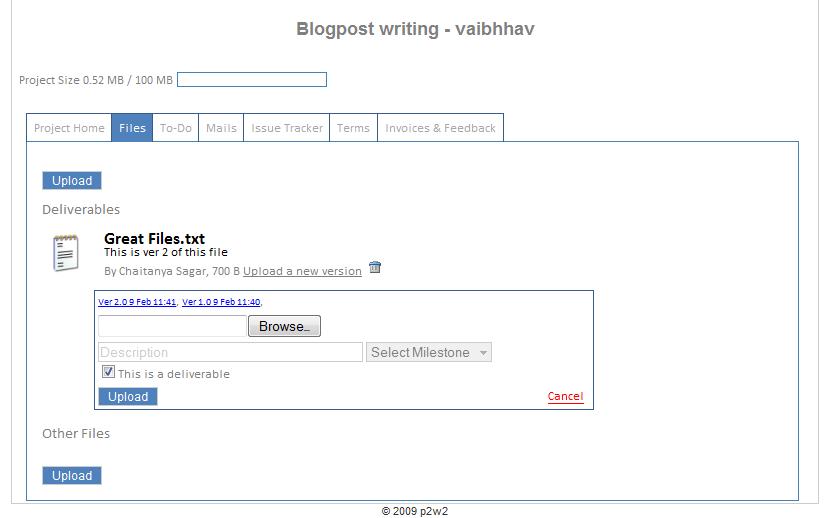 To delete all versions of your file, simply click on the trash can icon next to the file. In case you need to maintain just one final version, upload it on a new file name and delete all versions of the old one.
Try this feature out and let us know what more you would like to see in it to help you use it better. We hope you enjoy using the Files feature and the other collaboration tools we have on p2w2.
About the author: Amit Mullerpattan is VP (Product) at www.p2w2.com which helps small businesses outsource services like writing, software, graphic design, virtual assistance, business consulting and research. Amit blogs at p2w2 blog (RSS) and tweets at www.twitter.com/Chaitanya.
Image credits (top): M Wichary