p2w2 now has a new office. Till now, we have been working out of my residential apartment. Below are pictures of the old office we have been working out of.
That is Amit (grey shirt) and I (red shirt) working from there. The discussion in the picture was of course made up. 🙂 Ravikiran (picture below) should have been in these old office pictures but for the injury he sustained.
I would really like to thank Sahiti, my wife, for all the support she gave when we worked out of her home.  We invaded her kitchen and privacy but she was patient through out. She went out of her way and cooked for us and cleaned the place and innumerable times supplied refreshments, so we could focus on the work. Thank you!
I would also like to thank Vidya Sagar who has helped us in a number of ways including designing our logo, designing and printing business cards etc. He is a great advertisements guy and knows how to network! He is now the most punctual guy around. He took all these pictures! Thank you!
Thanks are due to a number of others who have supported us. Pratibha K, Vikas Arya, Koteswara Rao, Krishna Rao (my father), Jayabharathi Devi (my mother), RK Kalluri (Playgroundonline), Devan Rajashekar, Rohit Kundaji, Vinay Kumar, Will Swayne, Emil Pindur, Raghavendra Prabhu, Anita Campbell, Jason D'mello and Sandeep Shroff who have all supported us in different forms.
We opened our office on 2nd December, 2008. We did a puja (a prayer) and occupied the premises.
Below is me (Chaitanya) and Sahiti preparing to start the puja.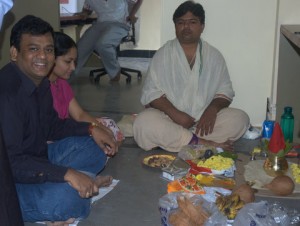 Puja arrangements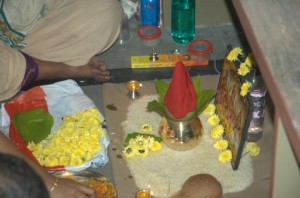 Amit, Akhada (Amit's wife), Chaitanya, and Sahiti busy in the puja. The little girl is Samiksha, Amit's daughter.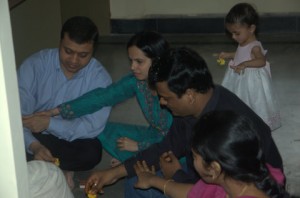 Ravi Kiran, p2w2's Product Lead. Ravi was injured recently. He got his leg fractured and still attended the puja and has been working out of home. Thanks Ravi! It has been great working with you.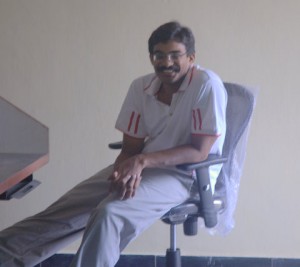 This is little Samikha. She was uncontrollable during the puja.  🙂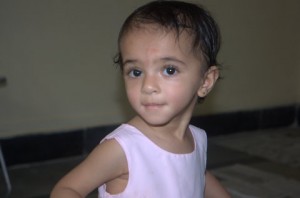 Below are pictures of our friends from Investment Yogi and New Energy Finance who share the office with us. That is Mamtha and Deepika.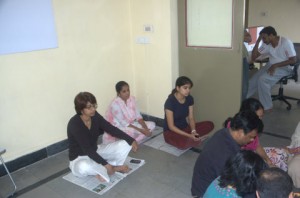 That's Madhu, Kiran, Deepika (almost hidden) and Shravan all from Investment Yogi.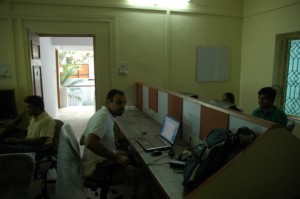 View of the office from outside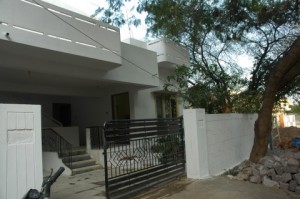 View of the office from inside