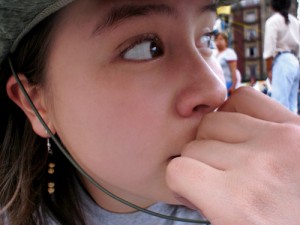 Assume you want to hire a professional. You post a project on p2w2. You get responses. But you can smell from a bid that the professional did not read what you want. She just has a personal rant about herself that she 'copy pasted' it into the bid. What do you think about the bid? Will you choose her?
It's mistake for a freelancer to keep a standard bid ready and dispatch it on any type of project. So a buyer looking for a person skilled in fiction writing receives the same profile as the one looking for someone skilled in business writing. The result?
Both buyers reject the bid!
Every
bid must be uniquely tailored to meet buyer's specs. This is because every project is different. Every buyer is different. Your objective in bidding is to convince the buyer, the decision-maker, that you are the best hire for the project.
Do you really suit the buyer's needs?
Bid, only if the subject/project interests you and you have the necessary expertise. Don't bid out of habit, as a morning routine. Don't bid for the simple reason that it's a high value project.
In order to make the correct choice of a project, you need to first, carefully study the needs of the buyer:
What is he/she exactly looking for in the professional? Do you have the skill?
Do you have relevant samples to show your credentials?
Do you command domain expertise the buyer wants?
Would you be able to meet the buyer's deadline? If not….and if you are still very keen on the project
If your answers to most of these questions are yes, by all means, bid. If not, don't waste buyer's time and your time.
Grab a buyer's attention: Tailor your bid to buyer's requirement
Assuming a standard projects gets an average of twenty bids in response to a project, a buyer spends less than a minute on each bid. On bids a buyer is impressed with, he/she will spend more time. To grab and retain his/her attention during this crucial one minute of cursory scanning, highlight how you have the skills and the expertise buyer wants. For instance, if the project asks for domain expertise in environmental writing, begin with your experience in that field. If the buyer asked you a question, start with answering that question. That way, you can show that you listen to your customers and give importance to them.
Talk about how your experience suits the buyer's requirements. Talk about aspects of the project description that were not clear. Ask relevant questions that show to the buyer that you understand the work.
Show samples; show proofs of your skills
Four to five samples is a good number and these must ALL be relevant to the project. Your samples must demonstrate your creative value and worth to the project at hand. Your samples must show the buyer who you are and how you approach a project. Good and relevant work samples can prove it to the buyer. Don't ever direct a buyer to a portfolio site. You pick the ones that are the most relevant and send those out as attachments with your bid.
Learn how to pitch
You can't swim, unless you are comfortable with water. Likewise, an important point to bear in mind is feeling comfortable in telling your "story," your accomplishments, bit by bit, as you would to an attentive listener, or a sympathetic friend. Overcoming an ingrained reluctance to speak highly of our accomplishments is often essential to convince an employer to hire you!
Be honest
Be concise and do not stretch the truth. If there is an aspect of the project that you haven't understood or are not sure you can handle, own up to that shortfall before hand and be transparent. Take responsibility. It's always better to lose a project than commit to something and not deliver, or fall short of expectations. Whatever you do, don't present inaccurate information. Don't come across as phony or non-trustworthy. Examples of that would be tall claims without any substantiating evidence.
Double check for grammar and brevity
Remember that what goes in first will stay on top of the employer's mind. Double check your bid for grammatical errors, composition goof-ups and poor styling. This is more important for non-native English speakers. Simple typos or errors — in grammar, word choice, spelling, and length can be a major put off, especially if you are applying for an editing or a ghostwriting gig. e.g., "Ability to meet deadlines while maintaining composer," " Hope to hear from you shorty (correct: shortly)," "Here are my qualifications for you to overlook (correct: have a look at..)"
If your bid, in which you should be at your best, is not in good shape, buyer can figure out what your output will be.
Don'ts
– Don't give an emotional or an intellectual overdose in your proposal ("I am new on this site, please give me ONE chance.")
– Don't use sarcasm, derogative or humor that doesn't work ("My services are not like those of a Chinese goods manufacturer")
– Don't use false claims ("I am the best that you can get on this pricing")
– Don't pepper your talk with heavy-duty words ("I can structurally embellish your concept like no one else can.")
How long is too long?
That's a difficult question. Since, it's a self-reported account; a personal glorification tool, one page (or 250-300 words) is often more than sufficient. Two pages are really over the top, where you have to present really sterling credentials. But even here, you must show substance over fluff.
Finally, remember that you bid is the first impression of your brand for a buyer. Protect and polish it before you present it. No use spending two hours every morning aimlessly and randomly bidding on projects that are never going to fall into your kitty. You might as well be shooting in the dark!