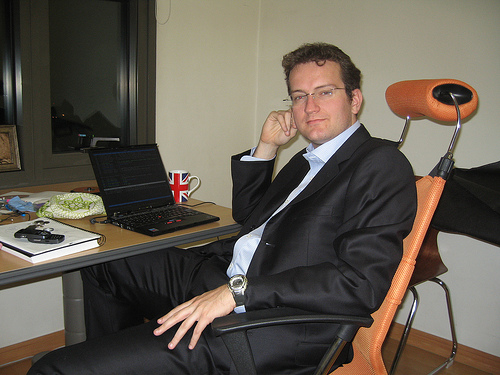 Have you heard about an accountant who visited the Natural History museum, where, when he spotted a dinosaur he said: "This is exactly two billion years, and ten months old."
"How did you figure that out?" gushed an incredulous neighbor.
"I was here ten months ago, and the guide told me that the dinosaur is two billion years old." he declared.
Now if that sounds like the accountant you hired, you are in big trouble.
Your relationship with your accountant is like that between a husband and wife; it matters a lot and what happens between them is private and confidential.
Your Accountant must be intimately informed of your financial affairs and you must be able to trust her. If she is not trustworthy, don't touch her with a barge pole!
Accountant is more than just a bean-counter
The right accountant can do much more than prepare your yearly taxes. Are you planning to invest in new options but want a second opinion? Cash-flow crisis? or inventory pricing problem? Your accountant is the person you must turn to for advice. He or she can advise on management decisions, business growth strategy, payroll management, and investments.
I, for instance, sounded off my accountant on capital structuring and tax issues and keep him aware of important developments in the company. Over time, we have worked on our relationship, where I trust him enough to actively analyze, interpret and convert data into actionable business intelligence inputs.
The wrong person on the other hand can cost you money, can cause trouble with tax and other government agencies and can cost you many missed opportunities.
A relationship with an Accountant is about compatibility and long-term
Just like a husband-wife relationship, this too boils down to compatibility. Check out all the facets of compatibility with your accountant as well. Here's a good to-do.
Conduct a careful search. Seek referrals from professionals you already use and trust, such as bankers, insurance agents, or lawyers, or from companies in similar lines of business.

Verify credentials. Experience has taught me that some prospects claiming to be working as bookkeepers or accountants have no formal license or education in the business. Ask for references from his top three clients. If they happen to be in the same business as you, it's a good sign.

Double check references. He or she must be listed somewhere. Perhaps she's a member of the American Institute of Certified Public Accountants, the state CPA society, and/or the National Association of Black Accountants. Verify.
Look for the right chemistry. Make sure you are comfortable with your accountant. It is important that the two of you are generally on the same page. How do you determine whether you have an ideal 'values' fit with your accountant?
Bear in mind the following issues when you quiz your prospect:

Does she understand you, your business goals and your long-term objectives?
Is she the kind who will be proactive in looking out for newer opportunities for you?
Are you more important to her than her fee?
Is she transparent with you about her work? Will she add value to your business? And

Do you trust his/her judgment?

By all means be choosy and selective. You can make a good decision only after you have tested the market and spoken to a few hopefuls. Pick the one who best aligns with your work style and values.

Factor in your special needs. If you have unusual accounting problems, you should look for someone specialized in that field. For instance, if you need an audit for your company, additional designations such as CFE (Certified Fraud Examiner) could be helpful.
Best is not necessarily the most

suitable.

No point in hiring the best consultant in town; if he/she has no time for you. In such a case, it's better to go for someone with a small and sound practice, who has adequate time and interest to help your business.
Seasoned is good. Keeping in mind the changing tax laws and complex accounting rules, a minimum of five years in an industry is a good benchmark to go by.
Finally, Don't be afraid to switch. There is no point suffering a bad marriage. The problem could range from simple incompetence to a case of bad chemistry. Whatever it is, don't hesitate to look for a replacement. An accountant is important to your success for you to compromise.
Take your time, get the right Accountant
If you are in a hurry to choose an accountant, you might be making a mistake. This is not one of those activities that can be done in a hurry. You have to take your time. Getting references, talking to them, talking to multiple prospects, and figuring out who suits you, all these activities take time. Give the time it needs so you can get benefited from the long-term relationship.
Remember the old adage? "No pain, no gain." Happy hunting!
Picture Credit http://www.flickr.com/photos/hendry/