Ever thought Enron is history? The past 10 days have been shocking in India as the Satyam Fiasco unfolded. The $ 1.5 billion fraud made headlines across the world. (see Satyam: Sanskrit for 'Enron'). It's great to see that the Indian government has acted swiftly (see: India Names New Satyam Board).
Satyam episode is not the only thing bothering me. Layoffs in small businesses have been on the rise. (source) The ADP national employment report indicates that layoffs in small businesses have increased 3.5 times in the past 3 months. In Dec 2008 alone, a staggering 281,000 employees have been laid off in small businesses. This follows 197,000 employees in Nov 2008.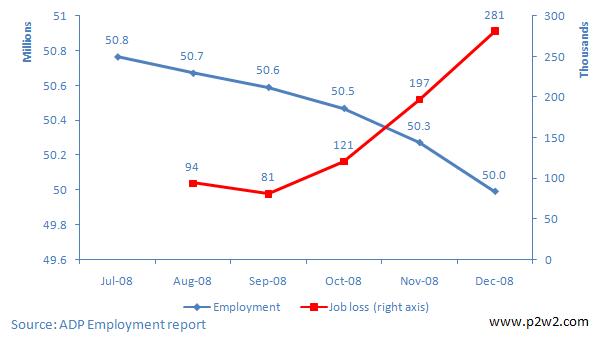 "Sharply falling employment at medium and small-size businesses clearly indicates that the recession has now spread well beyond manufacturing and housing-related activities."
Historical data indicates that this has been the largest fall in employment in small businesses in the past 8 years since ADP has been collecting the data.  The highest prior to this was in Oct 2001, after the dot
com bubble burst and Sept 11, in which 125,000 employees were laid off.
This is not good news for the small businesses. I do hope that we will get over the financial troubles soon. What is your own assessment? What is happening in your business and other businesses you know of?